Quake shuts out Icedogs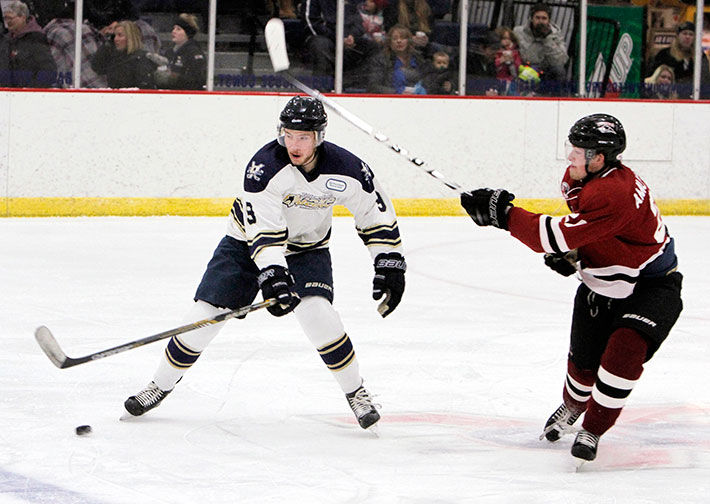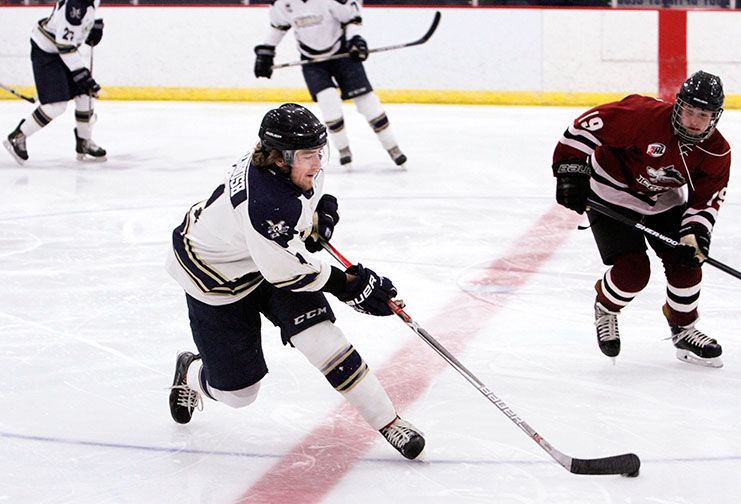 Saturday night's first Yellowstone Quake goal against the Bozeman Icedogs at Riley Arena provided the jump-start for the squad's 7-0 victory.
It was a win that solidified the Quake's hold on first place in the Frontier Division of the North American Tier III junior hockey league following a 4-2 victory over Gillette on Friday night.
Unexpectedly, Bozeman netminder Benjamin Sakaria was completely on the opposite side of the goalmouth, offering Doner a target seemingly as wide as an elephant for his ninth goal of the season.
"I caught a glimpse of the goalie at the other side of the net," Doner said. "It confused me. I'll take it."
The 7-0 domination of Bozeman came exactly a week after a 6-5 overtime struggle in the same building the Quake barely survived.
"We wanted to show them last week's overtime game was a fluke," defenseman Mason Stewart said.
The showing was a nearly flawless performance for the 16-0-0-1 Quake. Not even hard-to-please coach Ryan Theros found an area to criticize.
And this triumph came a night after a satisfying 4-2 decision over the Gillette Wild. Yellowstone's 33 points are eight points ahead in the standings of both Gillette (25) and the Great Falls Americans.
Theros, who has predicted greatness for this team since the start of the season, called a two-hour team meeting at his home last Tuesday to re-emphasize what he believes the Quake must do to fulfill that outlook.
The main topics were holding mental focus, mental preparation and making aggressive starts in games.
The Quake followed up with a top-to-bottom solid game at Gillette. Jesse Lawman and
Reed Kelly scored two goals each against the Wild.
Lawman (10 goals, 13 assists), Kelly (13 goals, 19 assists) and Doner (9 and 16) play on the same line and are Yellowstone's top three scorers.
"It's a very flowing line with a lot of hockey sense," Theros said.
Nick Ottenbacher was in goal for both victories. He stopped 31 of 33 shots versus the Wild and earned the 30-save shutout against Bozeman.
This was Ottenbacher's second shutout of the season. Brady Anderson, the other Quake goalie, has one. Ottenbacher said he does not go out of his way to collect souvenirs from a shutout with the exception of saving a game puck.
Besides Doner's kick-start goal, Lawman, Curtis Greenbush, Tony Dahlberg (two), Cole Stewart, and Max Meyer (his 14th) notched goals.
Defenseman Nick Ligocki picked up an assist, but then engaged in fisticuffs twice with Bozeman's Cameron Cerda. While it seemed those players might have a simmering grudge, Ligocki said they were actually longtime acquaintances from the Chicago area.
Ligocki and Cerda were both thrown out of the game. Despite those encounters, there seemed to be more emotion involved in halting Gillette.
"They're in second place," Ottenbacher said. "If you're going to travel over there you've got to get the two points (in the standings)."
Several Quake players who have been around a few seasons, Doner and Stewart included, have said they hate the Wild and the Wild hates the Quake.
"Going into Gillette is always tough," Stewart said. "We earned the goals we got."
The veterans remember two seasons ago when the Quake was a last-place team and they are reveling in this tremendous start.
"It's incredible," Stewart said.
http://www.codyenterprise.com/news/sports/article_7b0f6768-b026-11e6-8642-8f475e32a5df.html